Saturday, September 16, 2006
Are displays for smart cards finally more than just talk?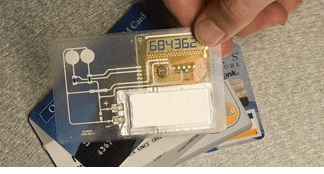 Marisa Torrieri, Contributing Editor
It's your credit card … spiked with something extra … a thin, flexible display with a readout similar to that of a calculator. But you don't just make transactions with this card. With this baby you make them two-factor style, fusing something you know (your card number), with something you definitely have in your possession (your card).
There are 952 words in the rest of this article …
Library Access Required
Library subscribers have access to the full archives of more than 10,000 original news items and feature articles published by AVISIAN's suite of ID technology publications (ContactlessNews.com, CR80News.com, DigitalIDNews.com, FIPS201.com, NFCNews.com, RFIDNews.org, SecureIDNews.com, and ThirdFactor.com).
For just $49, you receive unlimited password-protected access to content on all of AVISIAN's sites for an entire year. Your subscription helps fund the continued creation of independent, insightful content. Find out more.
Sign in as a Subscriber
If you are already a subscriber, you may sign in now. Enter your Email Address and Password and click Sign In.
If you have forgotten your password, enter just your Email Address, and click Send Password.